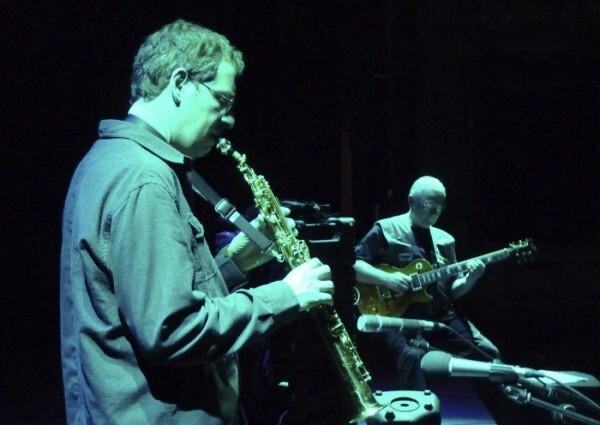 The sax player and Fripp collaborator brings his live show to the capital.
Venue: The Arts Depot, London
Date of Gig: Monday 30th June 2016
If you like music operating at the fluid interface between jazz, ambient and prog, you'll wish you'd been in north London to witness Theo Travis and his band (guitarist Mike Outram, organist Pete Whittaker and drummer Nic France) in full, flowing effect.
You can see why prog mainstays and outliers as esteemed as Robert Fripp, Bill Nelson, Steven Wilson, Gong, David Sylvian and Harold Budd have flocked to work with the saxophonist, flautist and composer. His music's not all ECM-style slow serenity and late-period Talk Talk tranquility, though. There are moments of Mahavishnu-esque intensity when the players threaten to tear the roof off.
It's a varied set. Sometimes they seem less like a prog band than a modern jazz quartet. Much of the show comprises tracks from the 2015 album Transgression, but there are intriguing diversions. Travis introduces a song "by a great British songwriter who is no longer with us" – Syd Barrett's See Emily Play – with an addendum about stopping at Toddington Services on the M1 and getting a call from David Gilmour to join him on tour in Europe. It might not be everyone's cup of hallucinogens – the sinister psych strut of Syd's original is replaced by sweet and sour sax noodling – but it's certainly different.
Sometimes it's a tad smooth. But then they'll throw in a drum fusillade or a sax blast and you'll be back on prog terra firma. It's all very grown up, with tasteful applause not just at the end but for solos within songs too. Smokin' At Klooks has a bossa nova, Latin feel worthy of Abraxas-era Santana. And a tune inspired by Iain Banks' The Crow Road has a quirky rhythm, somewhere between cool jazz and more frenetic prog.
It's a show of two halves. Fire Mountain kicks off the second half, with some McLaughlin-fast guitar and virtuoso sax. Song For Samuel is like Steely Dan if they eschewed tunes for dexterous jazz fusion. The audience are transfixed by the version of Robert Wyatt's Maryan, while Portobello 67 hints at psychedelic jazz.
They climax with a song about Pluto's changing planet status. Suitably, it has all the alien quirks, strangeness and charm of Captain Beefheart. But then Theo Travis has a magic band of his own.
Paul Lester