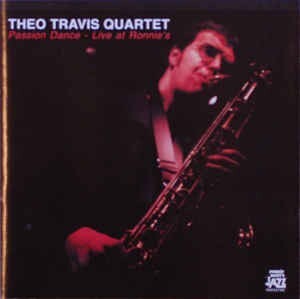 The word "Passion" within the CD's title(taken from the McCoy Tyner track on the album) could not be more descriptive of the playing of tenor man Theo Travis, and of his music throughout the album.
Theo takes no prisoners in the way he bears down on the music. All is redolent of strong emotion, whether it be his forceful high energy soloing in some of the roaring up-tempo pieces, or the calm, almost pastoral sound he reserves for such as the beautiful Shore Thing; a wonderful soundscape of, I imagine, a quiet and peaceful beach scene. For those who have heard Theo at Ronnie's will know that this quartet of David Gordon (piano), Andy Hamill (bass) and Marc Parnell (drums) is definitely not a tenor -with-rhythm-section group. This is a totally integrated foursome, who, as Theo succinctly states in the album insert, he "wanted to record live to capture the energy, passion, spontaneity and almost telepathic inter-play between the musicians." That says it all, especially the telepathic inter-play reference!
Of ten tracks, six are Travis compositions, ranging from fire of Black and Crimson , through the gentle strains of Shore Thing and Everything Matters: then via his appealing flute sound in Tread Softly, to the last track, a 13-minute sound picture pot-pourri of the various facets of America's capital, called Nightmare in New York. This incidentally, incorporates a lengthy but rivetingly logical and intelligent drum solo.
Space limits further detail, suffice to say, though this is music to be listened to as a unified whole, the staggeringly high jazz prowess of each member, whether in solo or in group activity, makes this 76 minutes of modern-jazz-of-the-day and essential purchase.
Brian Davis - JARS Magazine
"There are few things in jazz more exhilarating than a superb group hitting peak form, and this live recording of Theo Travis' quartet captures the band at that extraordinary level of inspiration and expression. They perform six excellent Travis compositions, three jazz standards and one standard song.
The opener, Travis' "Dog Days", sets a remarkable level of intensity and drama. Travis' tenor sax solo borders on the superhuman in its barely contained passion, its virtuosity and flow of ideas and whem his solo ends, the group is immediately hushed for the quiet bass solo. McCoy Tyner's "Passion Dance" is given a fresh reading with some added bass notes to the theme and an excellent piano solo, and for Tubby Hayes' very pretty "Off the Wagon", Travis plays flute and Hamill contributes an exquisite bass solo. Coltrane's Impressions and Cole Porter's "Just One Of Those Things" are both given up-tempo bravura performances with the magnificent rhythm section in full cry. Travis's very varied compositions include the ballad "Tread Softly" and the delicate Latin "Everything Matters" which both bring out the subtle and spare lyricism of the quartet, while "Nightmare in New York" is a suite full of incident and surprises.


Ian Carr- BBC Music Magazine (April 2000)
Tenor saxophonist , composer and arranger, Theo Travis is one of the brightest new talents to emerge on the British Jazz scene for some time. He received a classical musical degree from Manchester University and was nominated Best Newcomer by the Financial Times in 1993 and rising star of the 1995 and 1996 British Jazz Awards. He has recorded three previous albums on the 33 Records label but this is his first CD on the Ronnie Scott Jazz House label. This "Live at Ronnie's" quartet recording captures effectively the club atmosphere. The programme mainly consists of compositions by Travis with the exception of Passion Dance by McCoy Tyner, Off the Wagon by the much missed Tubby Hayess, Impressions by John Coltrane and the Cole Porter standard Just one of those things.Travis is responsible for all the arrangements. The listener is initially made aware of the enormous energy of the group and the technical ability of the individual musicians, as they ride through often complicated passages both rhythmical and harmonic with ease. Travis also, on occasions, displays his classical background in Everything Matters and Tread Softly, but his roots remain firmly in jazz. The leader is ably supported by a fine rhythm section in which pianist David Gordon is outstanding. It should also be mentioned that Travis' flute playing is impressive, particularly in the Tubby Hayes piece. The Ronnie Scott Organisation continues to flourish in Frith Street, but the work it does in promoting young jazz talent, such as these musicians, is also to be commended. A fine CD.
David Lund - Crescendo Magazine Feb 2000